The Story Behind Everything Goat Milk...and How YOU Can Build a Successful Website, Too!
As with most things in life, my journey to building a successful website about a topic I love was a long and winding road.
When I tell you that I have a Ph.D. in computer science, you may think, "Well, naturally, she knows all about web programming and the internet."
However, nothing could be further from the truth! In fact, our teenagers know more about the specific details of computer and web applications than I do...
You see, my specialty was in the realm of data modeling, which means I do the theoretical work, and then hand off the results to others to do the hands-on programming. And website design and programming? That was something I never did, and was actually afraid to try because it was "new," and I never had any training in it.
Just like a dermatologist probably wouldn't have a clue how to do open heart surgery, in spite of being a "doctor," I was a computer scientist who knew hardly anything about internet business!


The transition...
After twelve years of teaching and research work, I left my university job to start a business with my husband. That dream ended rather quickly, however, when he took ill with a rare sickness. Now, we needed an income, but I also needed to be available for him.
Many times, as he saw me sitting at the computer (usually researching treatments for his disease), he would comment, "I know you can make money on the internet, if you just try!" His confidence in my abilities certainly exceeded mine, but I wanted to believe he was right.
Even though I had had a wonderful job, I really always desired the freedom to work from home and spend more time with my children and farm (the hobby that my real job supported!).
And, though my training and career were high-tech, I'm really a country girl at heart who loves all things related to nature and animals. Staying in a windowless, air-conditioned office all day for me is like keeping a horse in a house...I couldn't wait to get out in the fresh air at the end of each day.

There's one born every minute...
With his encouragement, our current need for me to be at home, and my longtime desire to be financially free from an office environment, I started researching ways to make money on the internet.
If you've ever had this dream, then you've probably seen and heard about the same products and promises that I found, like: "Your computer does all the work...make money while you sleep or play golf!"
Of course, these ridiculous statements are only meant to help the people selling them make money, but, hey, doesn't everyone want to believe it's that easy?
The emotional draw of a promise to make your dream come true is so strong, that...
After weeks of researching different products, I finally ordered one that cost about $60 and had a money-back guarantee. This product was listed and reviewed on many of the "Top 10 Ways to Make Money on the Internet" sites that I found (you've probably seen them, too), so I didn't feel like I was really taking too big of a chance.
Well, the "product" turned out to be a poorly organized conglomerate of ebooks about a vast array of different ways to make money on the internet.
I was determined to either make it work, or get my money back, though, so I quickly read every ebook (struggling through the misspelled words and poor grammar) and laid out a step-by-step plan of action &mdash the best that I could make it out, anyway, from the poor set of instructions.
The basic parts of the program were to select some affiliate products (products that companies pay you a commission for sales), set up a web page with an internet service provider, "review" the products to convince people to buy them, pay for internet ads to get people to your page, and then collect all the money that would start rolling in.
After experimenting with this system for about two weeks, I noticed that the main product the program wanted you to sell is theirs.
Since then, I learned that this is how most internet marketing "courses" work. The content itself is horrible, and you would be hard-pressed indeed to try to really build an internet business with it, but if you can convince others to buy it (just like you yourself were convinced) you can make money by selling it to other "suckers."
Now, I'm a horrible liar, and the idea of writing glowing reviews of products I'd never seen or used, or really didn't believe in, just to make money from people who trusted me went against every moral business principle I had.
If that's what I had to do to make money from the internet, it certainly wasn't for me!
Oh, and the reviews kind of neglected to say upfront anything about all the costs it would take to get things up and running, like web hosting fees, advertisement fees and keyword search fees to begin.
There was an upside though...in a way &mdash this course did introduce me to the concept of "affiliate marketing." The idea is that anyone with a website, or even just email, can make sales commissions from providing a unique link to a product. Computer software tracks purchases made from that link, and the commission is credited to the seller. Seems like a pretty typical business model, but like anything else, it can be used for good or evil!
Unfortunately, what I took away from this course was that affiliate marketers were evil!
I learned how to recognize affiliate links from regular links by the special characters in the file names. Then, I went back and looked at the product "review" websites I had trusted. Guess what? That's right...they were all "affiliate marketers" of the products being reviewed, just trying to sell me something.
Because of the methods this course taught, I believed all affiliate marketers were greedy liars just out to make a buck. Harsh, I know, but that's how I felt.
I promptly asked for my refund (and got it, thankfully), and from that point on I avoided affiliate links like the plague!
Now, it was time to pick myself up and wipe the mud off my face.

Maybe a blog....
I thought my internet business dreams were gone with the disappointing education I had received in that course, but about a year later I started reading about how people were making money by blogging &mdash writing short, frequent articles on various topics and publishing them on the web.
Hmmm...I loved writing, even the dry technical writing that I had done at work for many years. Recently, though, I had compiled, just for fun, a nice collection of interesting (to me, anyway!) articles on farm life and various, curious animals that we had. That was a lot more fun than writing about a data model!
When I discovered a website that gave a genuine, in-depth explanation of how to make money blogging &mdash no short cuts; it's hard work &mdash, I thought, "This is something I can believe in and enjoy doing!".
Besides, the evidence was there &mdash this person had a wildly successful blog that he had started from nothing, and he was simply sharing the information he had learned the hard way.
But, the real selling point was this: The key to success is on giving not getting. You give something that genuinely benefits people, and in return, you're rewarded for it. This was a 180 degree turnaround from the get-rich-on-the-internet schemes I had seen.
Now I could finally see that affiliate marketing wasn't inherently evil, and that there are people who might make money off a product, but they are honest people who really believe in the product and want to help people MORE than they want to make a buck.
So, instead of skipping over every (evil) affiliate link even if I wanted to buy a recommended product, I began to intentionally purchase products from affiliates who had truly provided me with valuable information as a way of saying "thank you."
I realized that affiliate marketing was no different than a retail store: some were just there to make money and did it at the expense of value and customer service, but others went over and beyond to provide the best for their customers &mdash and THOSE are the ones who succeed in the long term.
Now, that was something I could believe in. Just maybe this would work...
I set up my blog. I learned all about the WordPress software, spending a LOT of time learning the technical aspects of HTML programming, using the templates, etc. I posted my articles and wrote more.
I spent a LOT MORE time trying to learn how to get the search engines to pick up my blog so I would have traffic. I read tons of search engine optimization (SEO) websites and posted to carnival blogs to get more exposure, as well as learning about website directories and how to get included.
My computer background came in good use here, even though I was treading in waters I had never been before. I told my husband several times that I really didn't see how someone with no programming experience would ever be able to succeed at this. I wasn't even sure I would be able to!
I felt like I was on the right track, but, man, was it a lot of work! I was going in dozens of different directions at once. And, most of the work was in areas that I didn't particularly care for &mdash like learning programming techniques and worrying about how to use keywords effectively.
It was like trying to pull weeds with my teeth. I would eventually get the job done, but there had to be a better way...

After all, I just wanted to be able to write my stories for people to enjoy, and hopefully, make some money from people who would click on ads or buy products...this time, only products that I actually used and knew would benefit people.


Same philosophy, MUCH better way...
About three months into my blog, I stumbled across a product called Site Build It! (SBI for short) that both piqued my interest AND raised my warning flags.
Why? Because it looked like another make-money-on-the-internet product, and I had had enough of those! But, something was different about this product: it sounded genuine.
The explanation of the difference in building a website, blog and a real e-business REALLY got my attention, as I was currently struggling and spending extraordinary amounts of time trying to figure out all the pieces of the puzzle to make my blog successful.
Now I knew why it was so hard: the critical components like traffic and monetization are not factored in from the beginning, and there is no integrated toolset to handle all the essential day-to-day tasks of running and monitoring a website business.
I couldn't stop reading the testimonials and looking through hundreds of real, successful websites people had built &mdash people with NO computer experience and with every imaginable topic under the sun.
And, better yet, there were no promises that you'll "get rich while you sleep!". These were all people who put time and effort into their sites, but Site Build It! gave them EVERY TOOL they needed to do it themselves, and to be SUCCESSFUL!
This product promised to deliver its part, but only if you put in your part too: brains and motivation!
Still, I thought, this could just be an emotional sales technique, so...
When I finished the testimonials, I read every page of the technical details about what Site Build It! provides. One thing that impressed me the most was the four-step process that guarantees the success of SBI sites.
I knew after my previous attempts at internet "businesses" that SBI's approach was right on the money! No shortcuts, no gimmicks &mdash just a proven method, ALL the tools needed, and hard work.
Then, I tried out the free tools, like Search It. Even if I didn't buy Site Build It!, this one tool would be a tremendous benefit to my blog work!
The more I read, the more my skepticism faded...this certainly didn't look ANYTHING at all like the "internet marketing" get-rich-quick schemes.
In fact, it was exactly what I had wished for with my blog. Site Build It! takes away ALL the technical aspects of programming and managing a website, as well as managing search engine optimization techniques to make sure you get traffic to be successful.
As a computer scientist, believe me when I say Site Build It! is an AMAZING set of software tools, and after my brief exploration of "doing it myself," followed by a full year's worth of experience with Site Build It!, I can say with confidence that I would never recommend anyone build a website business any other way!
And, the best part to me is the premise that Site Build It! is based on &mdash the only one that I can fully support for any business:
Provide a truly valuable service or product, and never violate your visitor's (customer's) trust in you. The rest will take care of itself.
SiteSell does exactly this with Site Build It!: they provide an incredibly fantastic product and support at a terrific price &mdash and this inspires Site Build It! website owners to do the same for their visitors! It's a win-win situation.
The difference is that Site Build It! isn't about "making money on the internet." It's about creating a real, credible internet business. And, everyone knows that any kind of business will only succeed if it provides true value to its customers, and puts their interests first.


But enough about me...what about YOU?
If this sounds like a philosophy you can believe in, why not take a look to see if Solo Build It! can help you accomplish your dreams?
No, you won't be rich in a month or two, but if you want to create a real, long-term business on a topic you love, there's no better way!
You don't need computer or programming skills, or even writing skills. Solo Build It! holds your hand every step of the way. If you can click and type, Solo Build It! can help you build a successful website business.
The only two requirements? A topic that you're passionate about, and the willingness to work for your success!
Do you want to turn a hobby that costs money into one that makes money (like my goat farm!)?
Do you have an interest that you love to share with others?
Do you want to start building an income to transition to retirement, or just to work at home?
Do you want to satisfy the desire to own your own business, without risking everything or leaving your current job?
Do you already have a service or retail business that you want to expand through a website presence?
Then Solo Build It! may very well be the key to unlocking your wish!
Want proof that Solo Build It! works? Start right here! The fact that you found this website of about 100 pages that I built with Solo Build It! proves that the system works.
But there are plenty more! Read testimonials from real Solo Build It! owners, or watch their videos.
When you see a Solo Build It! website, you'll notice instantly there's something different. That difference comes from the SBI philosophy of putting visitors first. SBI websites are personal, informative and friendly.
You KNOW there's a real person behind them that will answer questions, and respond to emails or problems. You can also feel that person's passion about their subject, and their joy of being able to share it with others.
I waited a full year after building my website before deciding to inform my visitors about Solo Build It!, because I will NOT recommend any product or company I don't fully believe in. (That's why I promote only a few hand-picked affiliates on this site.) And, how can I believe in something until I've thoroughly tested it?
Yes, I receive a commission from sales of Solo Build It! from this page, but more important to me is to be able to help people transform their lives in the same way that I was looking for over the last few years, and to avoid the time-wasting internet marketing scams that promise tons of money from the internet with little work.
And believe me &mdash they ARE scams.
There is still no short-cut for building a business through time, dedication and hard work.
I started this site a year ago, and went from nothing to 100 pages. From no visitors to over 100 new visitors a day.
It's far from the point I expect it to go, but I know it WILL get there, because the process works, Solo Build It! has all the tools I need, and I'm committed to providing my visitors with something of value to them.
Where will you be one year from now?
Still wishing for a way to follow your dreams, or the proud owner of an online business? Only YOU can make your dream come true, but SBI has provided the way for MANY people to make money doing what they love best.
If you're still reading at this point, you probably DO have that desire to follow a certain passion and control your future &mdash maybe you've even considered an online business.
Is SBI! the right tool for you? Watch the short video below to get a quick overview of what SBI! can do.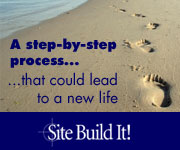 That was just an overview. If you're as cautious as I was about what's REALLY involved in building an SBI! site, you can view the ENTIRE Action Guide up-front, for free.
The Action Guide is the "owner's manual" for SBI!, and it tells you every step to take in building your website, so there's absolutely no way there can be any hidden (unpleasant) surprises.
And, if you STILL have questions about SBI after viewing all the information from the links? No problem &mdash you can ask any question here. You'll get fast, friendly, accurate information to help you decide. Trust me, it's the SiteSell way!
And, you have nothing to lose, because, just as you'd expect from an outstanding company like SiteSell, they offer a no-risk, money back guarantee.
So, even if you "skip over" my affiliate link (because affiliates are evil
) or just decide Solo Build It! isn't right for you, I hope you've learned a little about what an internet business is all about &mdash and what it's not!
Whatever your endeavor or dreams in life, best wishes, and thank you for visiting my site!
Maria (About Me)
---
Return to About Me
Return to Everything Goat Milk